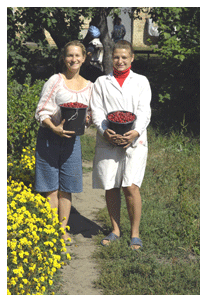 In honor of our Ukrainian friends, who have suffered so much over the past few months, we celebrate their contribution to our diverse and unique world of plants. Jim Gilbert, founder of Northwoods Nursery, first visited Ukraine in 1990, when it was still part of the Soviet Union. He discovered a remarkable collection of fruiting plants, many of which were virtually unknown to American gardeners.   He also met Ukrainian horticulturists and plant breeders, who shared plant material and their knowledge of these unique varieties, relationships Jim has maintained and valued until this day.
 At the Kyiv Botanic Garden, Jim found plant collections from almost all regions of the Soviet Union. Among these new varieties were Honeyberry, Magnolia Vine, Sea Berry and Cornelian Cherry. Jim met Svitlana Klimenko, who had bred new, large fruited and tasty varieties of Cornelian Cherry, a plant until then only grown as an ornamental in the US, with small fruit of poor quality.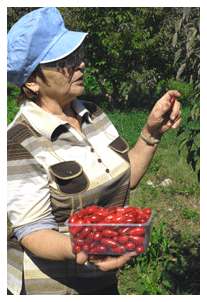 Jim was fortunate to be able to visit Ukraine again in 1991 and in 1992 went on a plant collecting expedition in the western part of the country, looking for old commercial orchards of Cornelian Cherry. In 1993, Svitlana visited Oregon and was followed by Oleg Nedviga and Kostya Chaika, who also worked at the Botanic Garden in Kyiv. Jim also visited the Nikita Botanic Garden in Yalta, which was founded over 200 years ago and is located in very scenic location on the shore of the Black Sea. There he met Sergei Kholkov and other researchers and saw their collection of unusual fruits, including Pineapple Guava, Jujube, Persimmon, Olive, Almonds and more.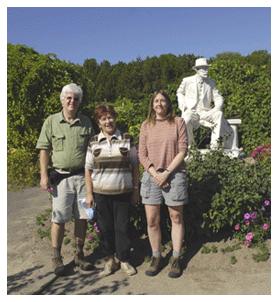 Northwoods offers many interesting and valuable varieties from Ukraine. Superior Cornelian Cherry varieties from Svitlana Klimenko's work include Elegant™, Pioneer™ and Red Star™. From the Nikita Botanic Garden, we offer Nikita's Gift™ hybrid Persimmon and the late blooming Almond varieties Bounty™, Oracle™, Primavera™, Nikita's Pride™ and Seaside™.