Mt. Ash
Sorbus spp.
We offer several unique and attractive Eastern European and Russian Mt. Ash varieties and their hybrids. They are prized for their nutritious fruit, which is high in Vitamins A and C, niacin, pectin and trace elements. Fruit of these varieties is eaten fresh and used in preserves, jam, pastry, and wine. Our Mt. Ash varieties are hardy to minus 40°F.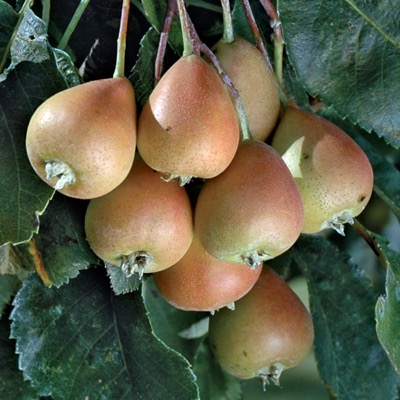 Baby Shipova
X Sorbopyrus auricularis
This newly rediscovered variety features fruit similar to Shipova, but on a much smaller tree. Hardy and attractive, Baby Shipova is very early bearing and produces good crops of sweet, delectable, yellow-orange fruit.
2930
Ivan's Beauty™
Sorbus aucuparia x aronia
This hybrid of Aronia and Mt. Ash produces striking, profuse clusters of pink-tinted flowers followed by 1/2" diameter, dark purple fruit. The fruit can be eaten fresh and makes nutritious and tasty, dark purple juice. Ivan's Beauty™ forms a very attractive, small tree growing 8-10 ft. in height.
2929
Ivan's Belle™
Sorbus aucuparia x crataegus
A unique hybrid of Mountain Ash and Hawthorne, Ivan's Belle™ forms a hardy small tree with profuse flowers and large and very attractive, dark green foliage. The wine red, tasty, sweet-tart fruit is the size of a pie cherry and is eaten fresh and used to make delicious wine and preserves.
2933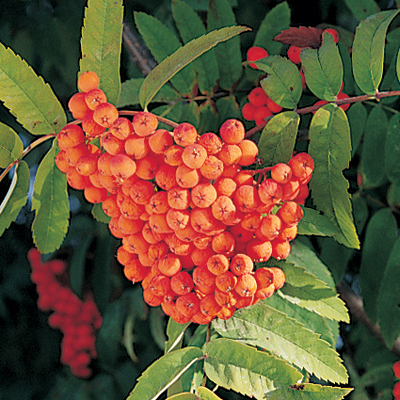 Rabina
Sorbus aucuparia
This unique variety was selected for its non-bitter, sweet-tart, tasty and nutritious fruit. Rabina's abundant and attractive, bright orange berries can be eaten fresh and make tasty juice and preserves. Rabina forms an upright-growing, attractive, small to medium-size tree.
2969