Kiwis
Actinidia spp.
Unique, attractive and ornamental vines, Kiwis are native to Asia and Eastern Russia. Easy to grow and free of pests and diseases, Kiwis produce abundant crops of delicious and nutritious fruit. In addition to the familiar, fuzzy brown Kiwi, we offer other species of Kiwi, which are not so well known to American gardeners and consumers. All Species of Kiwi require a male and female plant for cross-pollination and fruit production.
74-49
Actinidia arguta
This superior variety bears good crops of large, green, sweet and delicious fruit. 74-49 is one of the earliest ripening Hardy Kiwi varieties.
8410
Andrey™
Actinidia arguta
This extra hardy male is from Vladivostok, Russia. Andrey™ is hardy to minus 35°F. and is well suited to pollinate Natasha™ and Tatyana™. Andrey™ is hardy to minus 35°F. or below.
8411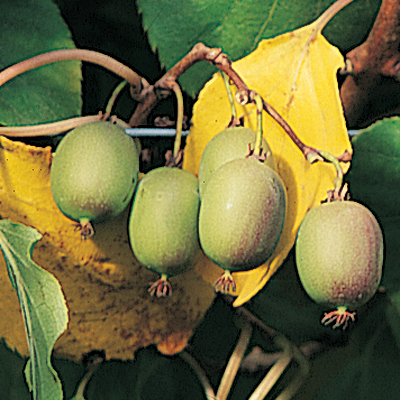 Anna
Actinidia arguta
Very popular with both home gardeners and commercial growers. Anna is very productive and features large, attractive, very sweet and flavorful fruit.
8420
Dumbarton Oaks
Actinidia arguta
This unique variety produces light green, flattish and ribbed fruit, which look somewhat like miniature pumpkins. Dumbarton Oaks' fruit is prized for its sweet and delicious flavor.
8412
Early Cordifolia
Actinidia cordifolia
This unique and productive species of Hardy Kiwi is prized for its very sweet and flavorful, large, dark green fruit.
8416
Flowercloud Male
Actinidia arguta X kolomikta
Early blooming and Less vigorous than other Hardy Kiwi males, Flowercloud is a good mate for Issai. Like Issai, Flowercloud should be hardy to at least minus 10°F.
8432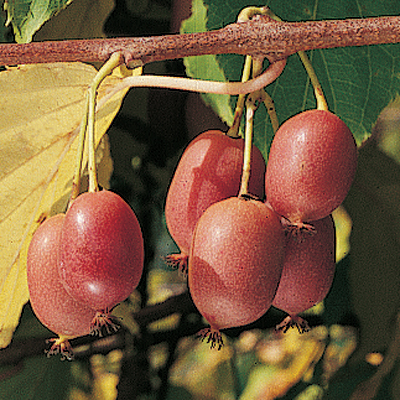 Hardy Red
Actinidia purpurea
This unique species of Hardy Kiwi bears good crops of striking, cranberry-red fruit with red flesh. Very popular in taste tests, these delicious Kiwis are prized for their sweet-tart flavor.
8500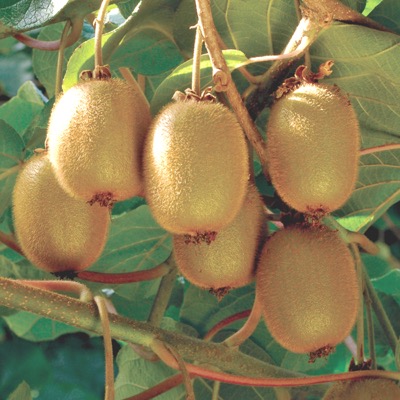 Hayward
Actinidia deliciosa
Selected in New Zealand, Hayward has become the most popular variety for home gardens and commercial production. Hayward is prized for its large size, attractive shape, delicious flavor and its abundant crops.
8220